University
of Southern Indiana, New Harmony Gallery of Contemporary Art New Harmony, IN
Curated by Iris Williamson
In this solo exhibition featuring new and existing work, Cass Davis exhumes collective and personal histories and questions perceptions of history—an excavation of Small Town America. Titling the show after the final apocalyptic Biblical book, Davis explores a multiplicity of transformational experiences, or
Revelations
. Conversing with the roots of Evangelicalism, whiteness, their own Midwestern upbringing in the church, and New Harmony's "utopian" attempts, Davis's work seeks to ask the question,
What is to be revived and what is to be dismantled?
Revelations
implies the
removal of the veil
—a revelation of truth.
The installation, sculptural, and textile works in
Revelations
utilize the textures and imagery of rural landscapes. Hand-woven Jacquard textiles featuring archival images of 1920s Appalachian revivals; the 1908 Springfield, IL Race Riot; and the artist's own family photos allow for a revisitation of complex histories. Hay bales sourced from local farms, natural materials, and roadside architecture evoke a sense of familiarity and curiosity, and conjure the memory embedded in the land.
Revelations
embodies the duality of tragedy and ecstasy found in the human search for transcendence. Sifting through archival materials, Davis seeks to uncover what has been hidden. "How can we alter our perceptions of history? What if we recognize that the oppressed past is non-linear; that history remains alive in the present?" Davis states, "Perhaps we can recognize that the ghosts that haunt our lives are speaking to us from the past—that through acknowledging their presence, we may find a place to address our history with honesty and find a path to healing."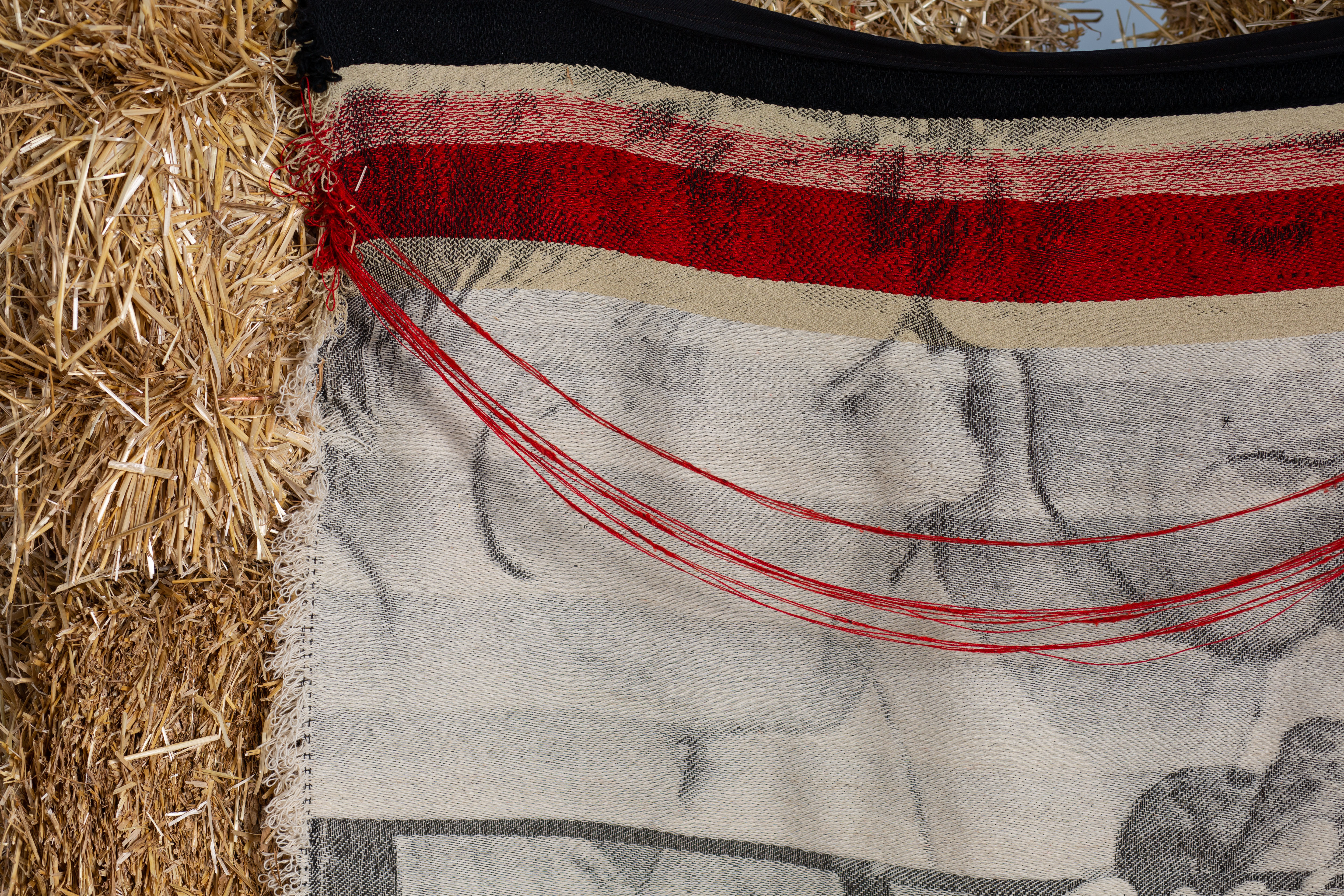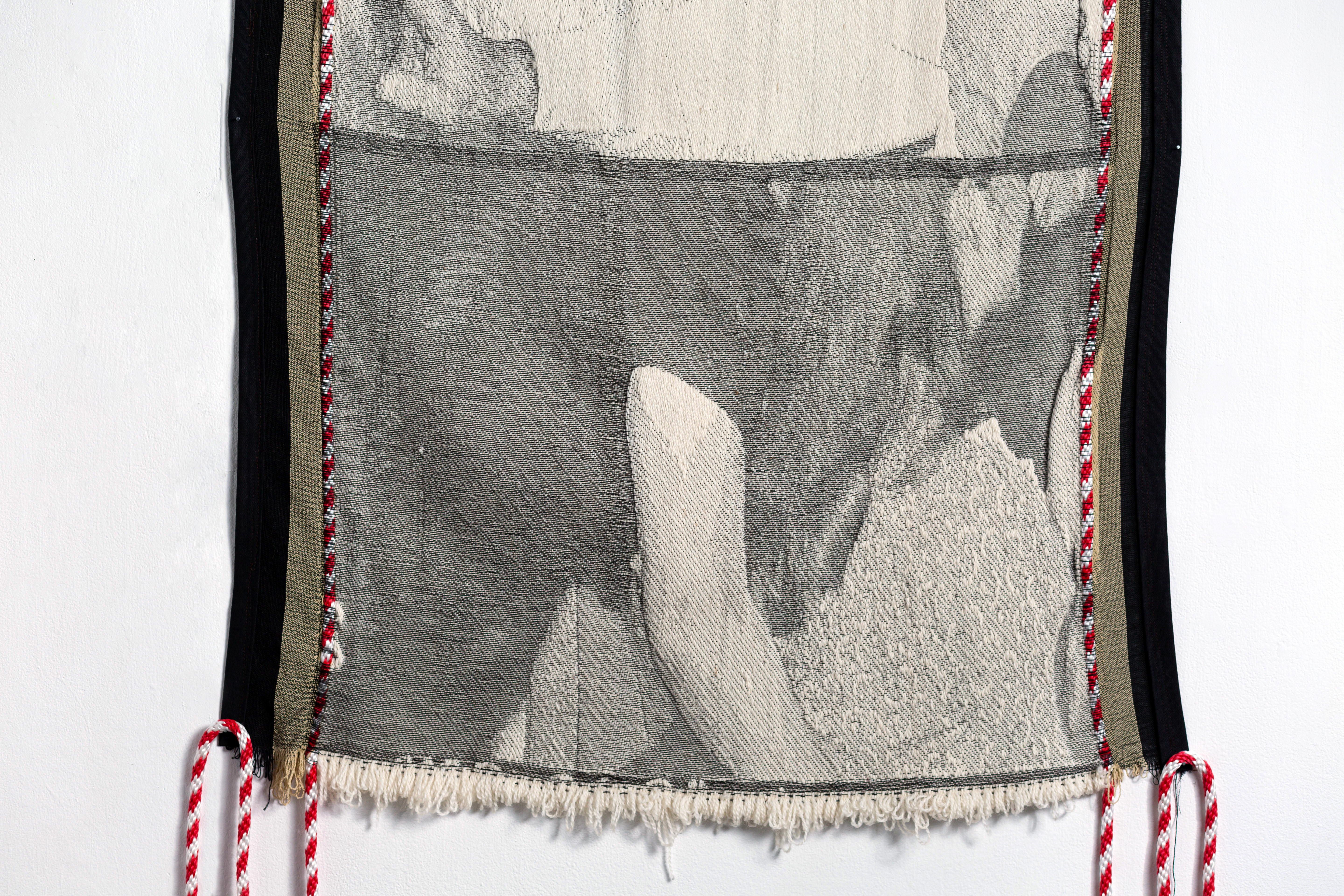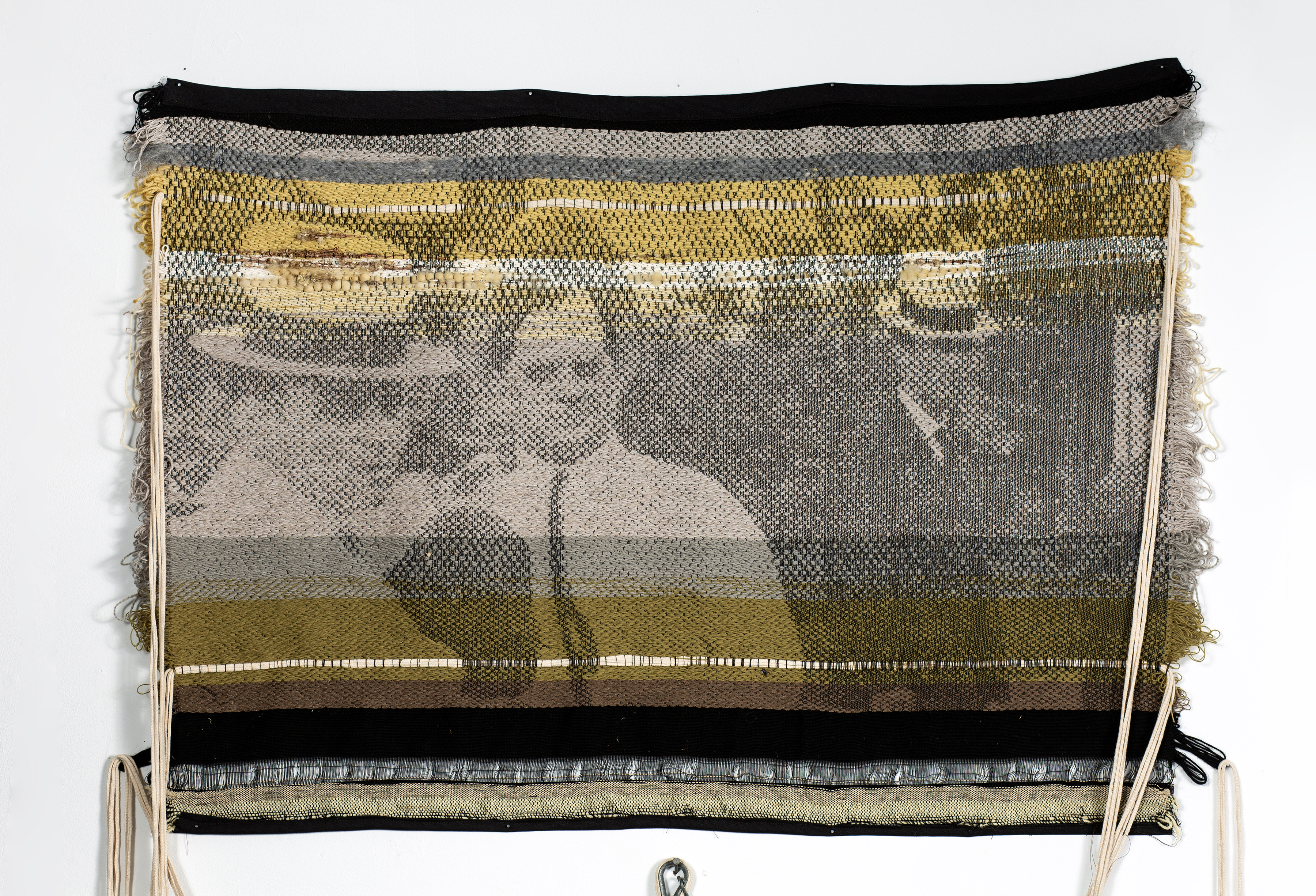 Out of Time 2020

Engage Projects
Curated by Pia Singh

Deadname, 2020
Cast soil, wood panel, photo album, teeth,
resined lilacs, and sunflowers.

Rapture, Apparition, 2020
Jacquard cloth and aged wooden billboard frame.



Lilacs, 2020
Cast soil, wood panel, photographs, resined
lilacs, and sunflowers.



Still from Sundown Town, Reprise, 2020
Single channel video
10:20 min TRT

Momento Mori, 2020
Oil painting on wood, resined studio-grown
Zinnias, garden trellis, and clamp light.


A House with many gardens,
2020
6 archival inkjet prints.
Presence, 2019
Hand screen printed dye on textile

Still from Sundown Town, Reprise, 2020
Single channel video
10:20 min TRT
Hidden Cross, 2020
Cast soil, wood panel, gold cross necklace,
and resined lilacs.
Still from Sundown Town, Reprise, 2020
Single channel video
10:20 min TRT



Revival II, 2016
Hand-woven Jacquard cloth.



Bible, 2018
Hand screen printed dye on textile.
All Together, Amongst Many 2021
BEMIS Center for Contemporary Art, Omaha, NE
Curated by Rachel Adams
HEARTLAND
Oct 2019- Jan 2020
Solo Exhibition, G-CADD, St. Louis
A view of the factory, an American flag at half-staff. The landscape, an infinite expanse of field. The revival. The harvest. A death, a resurrection— a haunting, no doubt. In Heartland, we are asked to consider the landscape as embodying both felt and unknown trauma. We are prompted to take a closer look at an identity so close and familiar that we don't stop to listen to the ghosts trapped inside.

Heartland examines the artist's own Midwestern Evangelical upbringing. Their sculptures investigate relationships between redemption, resurrection, embodied trauma, and the failure of the American dream. Locating these sculptures within the very landscape to which they point presents a new kind of context for the work. What relationships develop when the landscape is reflected back at itself? What stories does it tell? Does the material allow for embodied trauma to speak?
Of Roses and Jessamine,
2016.
Solo Exhibition
SITE Galleries, Chicago IL
Of Roses and Jessamine investigates spatial and corporeal sites of ritual. Take from the devotional and erotic poetry of Saint Teresa de Avila, the show's title embraces the deeply sensual nature of personal worship and spiritual ecstasy. Additionally, works in the show flicker between states of revival and
destruction. These sites for collective spiritual and social identity simultaneously surround and separate the viewer from the experience promised within. What, if anything, is being revived? Or are these structures instead collapsing from within?


Davis' work draws deeply from their Evangelical upbringing and rural Midwestern identity. Their practice is fixated on locating the phenomenological within rural America. The work seeks to critique systems of belief while also embracing the unknown. It questions power structures, yet invokes the power of the supernatural and personal experience. Davis' practice is tensioned between a desire for belief and existential loss. Material explorations across works explore cloth as a form of establishing shroud and sanctuary, seeking to capture the spiritual ecstasy experienced by devoted believers. It embodies an aura of obsessive devotion, as expressed in the hand-woven,hand-sewn, and queering reclamation of ritual.
Backyard, Monolith
2020
Cedar, soil, reclaimed wood platform, clamp light, dried flowers, remaining materials on request.
11.5ft x 2ft x 6in (Monolith), 4ft x 5ft x 5ft (platform)
---
Backyard, Monolith is an excavation of the connectedness of the trauma that lies in my own backyard, that in which I attempt to grow a garden. Excavated objects speak to a felt absence and embodied trauma. The structure is stacked vertically, an exhausting effort towards transcendence. This gesture implies a spiritual ecstasy is possible through the release of trauma by excavation of our own history. And when we look deep enough, as is in the case of my backyard, my trauma history includes the erasure of those who stood on this ground long before me. When I consider what rests beneath in the soil, the history in my town—that is every small town's history, this feels like a memorial.




---

I imagine each panel arranged like the archaeological record, expanded so that as a viewer we struggle to see the top, which barely clears the ceiling rafts. Excavated soil is hoisted to the sky. The top panel holds my own history, my family, our recent imprint in the topsoil. Unexcavated trauma. A portrait of a feminine, but white Jesus, who failed to protect me. Below lies the mark of lives lived, but also of deep violence. The silence, the stillness in the work, the absence is felt. Dried flowers are placed around objects as gesture of mourning. A haunting garden.

And the platform is an object of the institution. It is both 1920's revival pulpit and historic landmarker. And its failure to bring the viewer really any closer to the out of reach—or its inaccessibility, for that matter—is a testament to the failure of our current systems to address the unresolved trauma that rots like a disease in the bones of whiteness. Collectively, we have repressed memories. Repressed histories. Retrieving those collective memories is an arduous process, but it must be done for communities to heal. For individuals to heal. For the earth to heal. And the dominant white patriarchal narrative does not want us to excavate. Because it knows what we will find.

I grew up in a town with a fraught racist history. Still disproportionately white, it was a sundown town until the 1970's. Once a capital for the KKK in the 50's and 60's, in the Jim Crowe era the local newspaper was owned by the Klan. I have newspaper clippings from the 1920's of white supremacist calls for violence run alongside coupons for purchasing a Bible, followed by the farming news. My childhood home was located in the historic section of town. Through archival research I learned that my house was possibly built in the late 1800's as a "servant's" quarters. I can only guess who initially lived there. It was also located one street over from where one of the very last documented Native American settlements was forcibly removed from the land to make way for white settlers.

Ultimately, my backyard is stolen land. My only house key is buried at the very top. The object is haunted.

Backyard, Monolith represents the seemingly insurmountable history to be addressed and excavated. But as trauma theory states, it is only once trauma is acknowledged that we are able to fully begin the process of healing.




---
From Tracing Faults
Chicago Artist's Coalition, January 2020

"Backyard, Monolith offers an immediate access point into the exhibition and its framework. A column of framed soil traces a path from the ground up an into the space of the vaulted gallery ceiling. This monumental structure creates an implicit fault line, a rift that holds a series of unearthed artifacts that create a fragmented glimpse of the rural Midwestern landscape and culture from which they were collected. These objects and materials seem out of place in a contemporary art gallery, and magnify the dissonance between large urban cities like Chicago and the small communities that populate the rural landscape. The top frame contains a Westernized and feminine portrayal of a young Jesus Christ. This inclusion along with the supporting cast of materials points ot Davis's Evangelical upbringing and underscores the soncervative and religiously driven temperament that steers Midwestern ideology.

In front of the monolith, a weathered platfrom provides a marginally closer view of the structure as it stretches out of reach. The design makes reference to landmark viewing platforms and also to 1920s era revival pulpits. The viewer is invited to step up unto the platform and gaze up wit htheir body at the soil and its contents as they extend into the sky. For the artist, the experience serves as metaphor for the excavation of our histories, of excavating what's beneath our feet as a possible key to our transcendence."
-Jeff Robinson, curator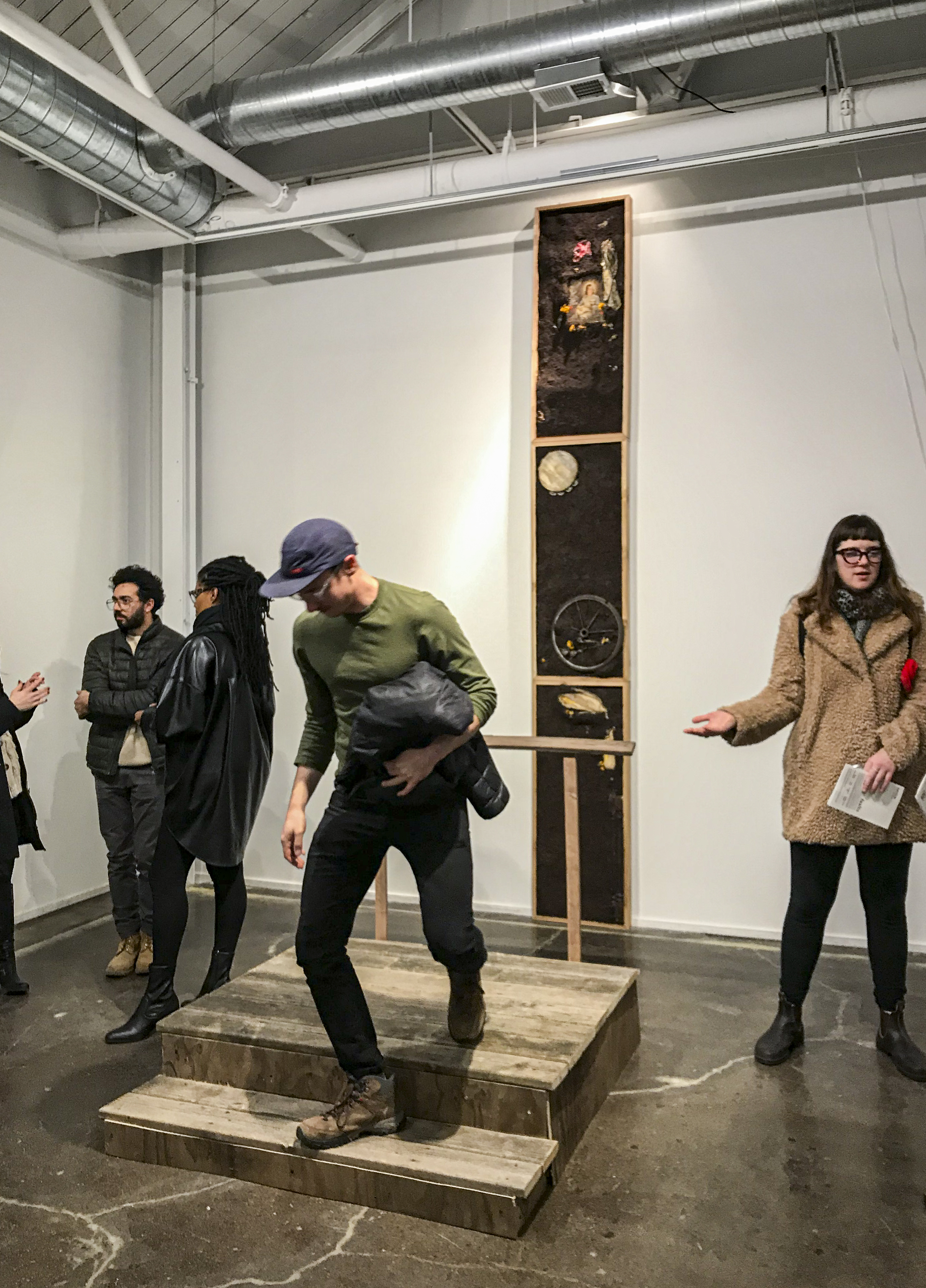 ---
Rapture, Apparition 2020

Hand-woven Jacquard cloth, aged wooden billboard frame. Approx. 8ft x 9ft x 4ft
Harvest, Transcendence 2019
Cast corn and soil, twine, hand screen-printed ink on textile.

















Harvest, Rapture 2019

Hay bales, hand screen-printed ink on textile, cotton rope, vintage lace altar cloth.

Memory, Fragment 2019

Hay bale, hand screen-printed textile.
Sundown Town
2017
2-channel video installation, 3-channel sound, hand screen-printed bunting flags, corn. 27:00 loop.
Through the re-staging of archival materials,
Sundown Town
resurrects the artist's 1924 Hometown Centennial Parade celebration as a space for confronting the violence that rests beneath the soil in Small Town America.
Sundown Town
challenges the Nationalist nostalgia for the "Good Old Days," questioning what should be resurrected and what should be dismantled. Using the visual language of the 20th century celebration of heartland life ways--the harvest, labor, the hand, the prayer, the menu, the parade--as embodying a darker side, the parade in
Sundown Town
becomes funeral cortège.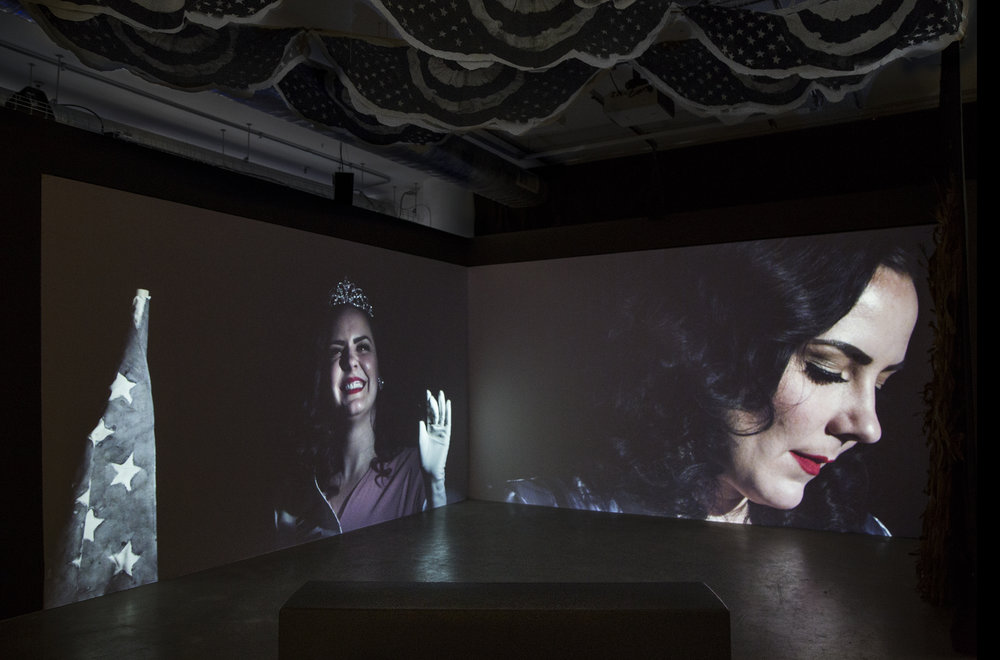 Whose Good Old Days? 2017
Sullivan Galleries, Chicago

3 hour durational performance. Performers cycled between gestures of parade and protest, and destroyed replicas of Davis' The Good Old Days Banner. Fabric protest banners courtesy of Aram Han Sifuentes' Protest Banner Lending Library.



Special thanks to Eseosa Ekiawowo Edebiri, Naomi Powers, Mina Büker, Maria Luísa Conlon, Erin Delaney, Claire Smith, Verónica Casado Hernández,
& Polly Bland
















Baptism 2015-2016
Video installation
+
Photographs

*Special thanks to Lucy, Ruby, Z, & Nuria

"Baptism," 2016. 2-channel video installation, 30:00.


Slain in the Spirit 2017

Vintage silk, photograph mounted on aged cedar panel.
Approx 8ftx 6.5ft
=

God will/will god lead us 2016
SITE Galleries, Chicago

Influential Evangelical leaders were mailed hand-woven Jacquard portraits and a letter from the artist. Ongoing project includes letter correspondence between the artist and Pat Robertson, Franklin Graham, James Dobson, Ken Ham & Mike Bickle.

Twin portraits were woven each so that the artist and Evangelical leader were connected through the same weft.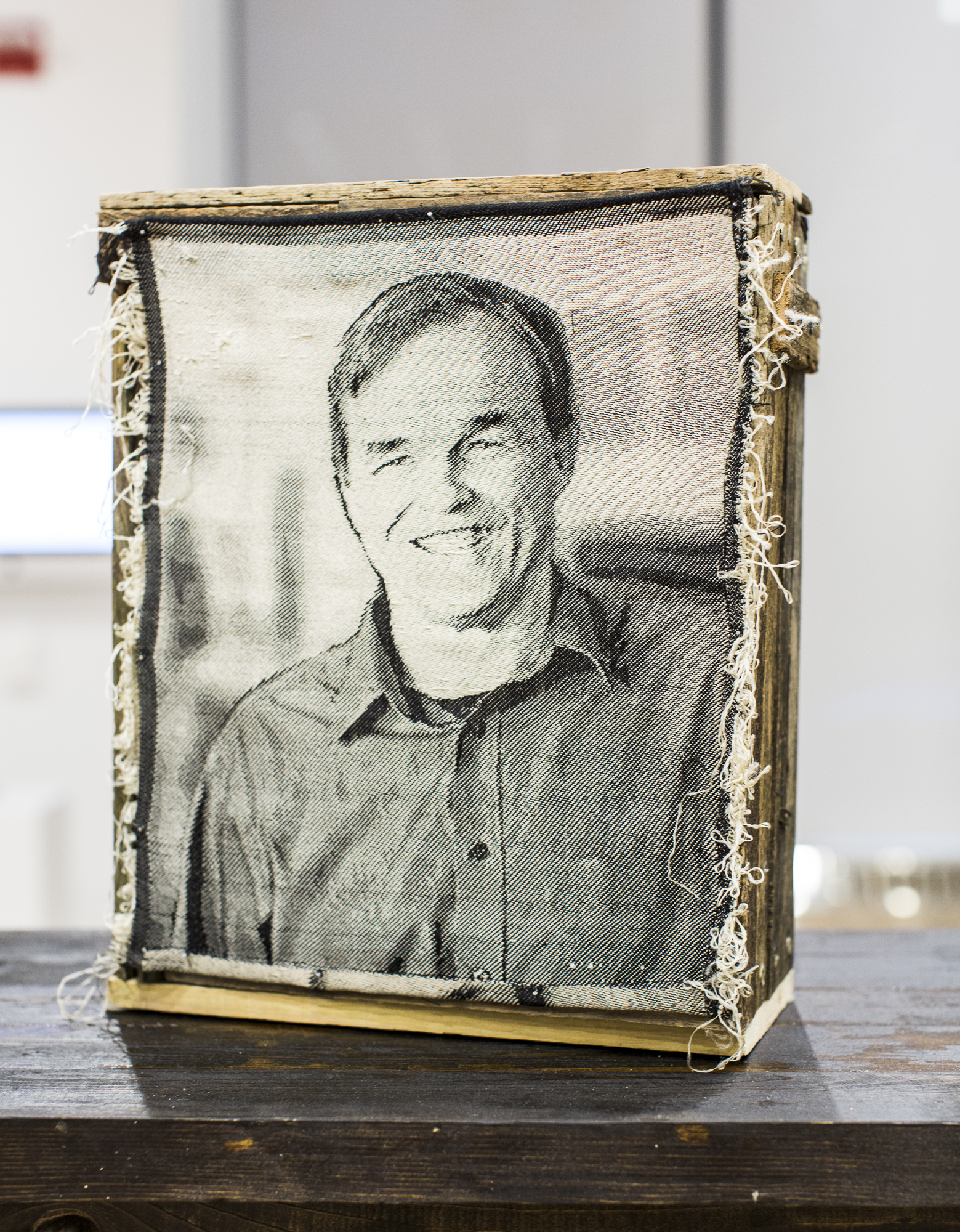 truth, the bathers, Christ mocked
2015
Art Institute of Chicago:
Romantic Collection App

Augmented reality.