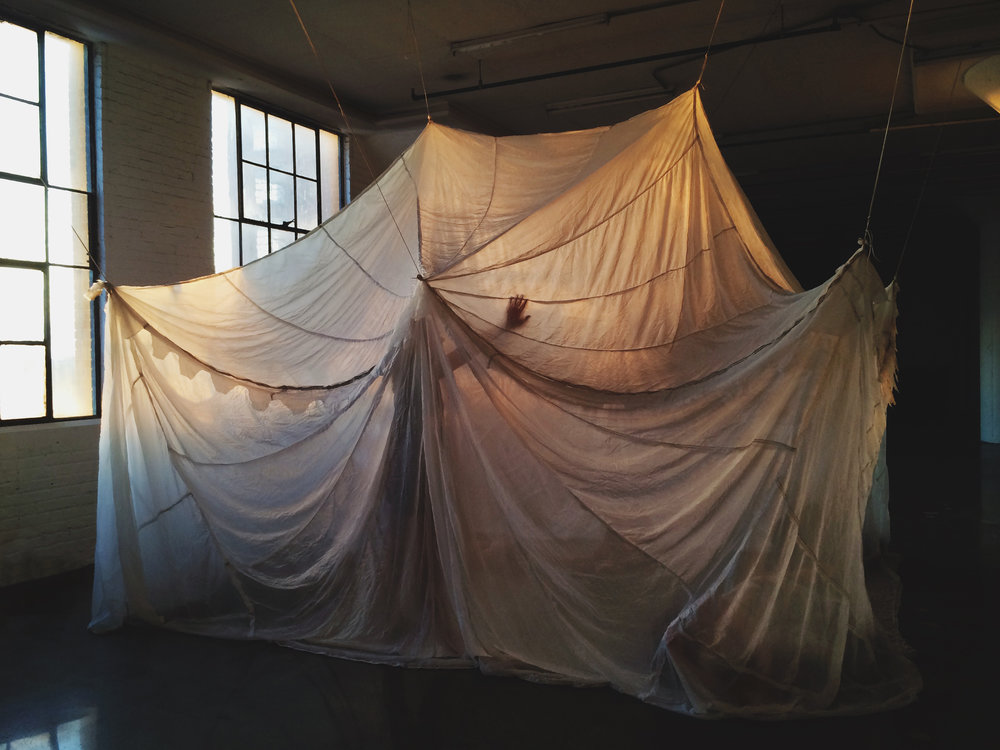 Under the Cover of Darkness 2016
Mana Contemporary, Chicago


3 hour performance at sunset, 8 dancers, hand-sewn silk revival tent. Performers cycled through gestures studied from Evangelical revivals and ecstatic mobs.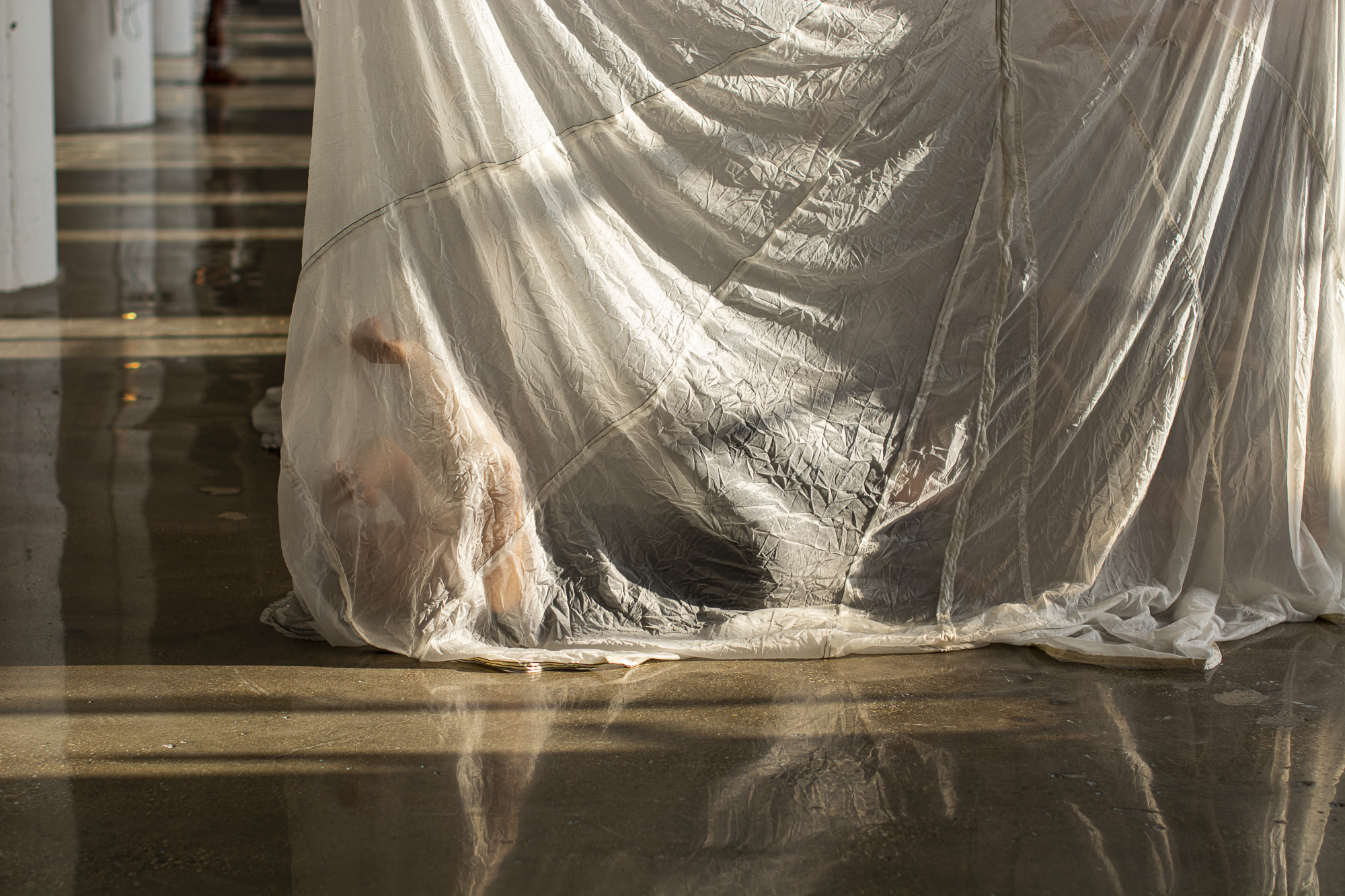 Special thanks to Polly Jane, Abena Motaboli, Verónica Casado-Hernández, Maria Luísa Conlon, Lesley Keller, Sophie Leddick, & Chloe Cuccinotta.
Of Roses and Jessamine,
2016.
Solo Exhibition
SITE Galleries, Chicago IL
Of Roses and Jessamine investigates spatial and corporeal sites of ritual. Take from the devotional and erotic poetry of Saint Teresa de Avila, the show's title embraces the deeply sensual nature of personal worship and spiritual ecstasy. Additionally, works in the show flicker between states of revival and
destruction. These sites for collective spiritual and social identity simultaneously surround and separate the viewer from the experience promised within. What, if anything, is being revived? Or are these structures instead collapsing from within?


Davis' work draws deeply from their Evangelical upbringing and rural Midwestern identity. Their practice is fixated on locating the phenomenological within rural America. The work seeks to critique systems of belief while also embracing the unknown. It questions power structures, yet invokes the power of the supernatural and personal experience. Davis' practice is tensioned between a desire for belief and existential loss. Material explorations across works explore cloth as a form of establishing shroud and sanctuary, seeking to capture the spiritual ecstasy experienced by devoted believers. It embodies an aura of obsessive devotion, as expressed in the hand-woven,hand-sewn, and queering reclamation of ritual.
















Baptism 2015-2016
Video installation
+
Photographs

*Special thanks to Lucy, Ruby, Z, & Nuria

"Baptism," 2016. 2-channel video installation, 30:00.


Sundown Town
2017
2-channel video installation, 3-channel sound, hand screen-printed bunting flags, corn. 27:00 loop.
Through the re-staging of archival materials,
Sundown Town
resurrects the artist's 1924 Hometown Centennial Parade celebration as a space for confronting the violence that rests beneath the soil in Small Town America.
Sundown Town
challenges the Nationalist nostalgia for the "Good Old Days," questioning what should be resurrected and what should be dismantled. Using the visual language of the 20th century celebration of heartland life ways--the harvest, labor, the hand, the prayer, the menu, the parade--as embodying a darker side, the parade in
Sundown Town
becomes funeral cortège.