Sundown Town
2017
2-channel video installation, 3-channel sound, hand screen-printed bunting flags, corn. 27:00 loop.
Through the re-staging of archival materials,
Sundown Town
resurrects the artist's 1924 Hometown Centennial Parade celebration as a space for confronting the violence that rests beneath the soil in Small Town America.
Sundown Town
challenges the Nationalist nostalgia for the "Good Old Days," questioning what should be resurrected and what should be dismantled. Using the visual language of the 20th century celebration of heartland life ways--the harvest, labor, the hand, the prayer, the menu, the parade--as embodying a darker side, the parade in
Sundown Town
becomes funeral cortège.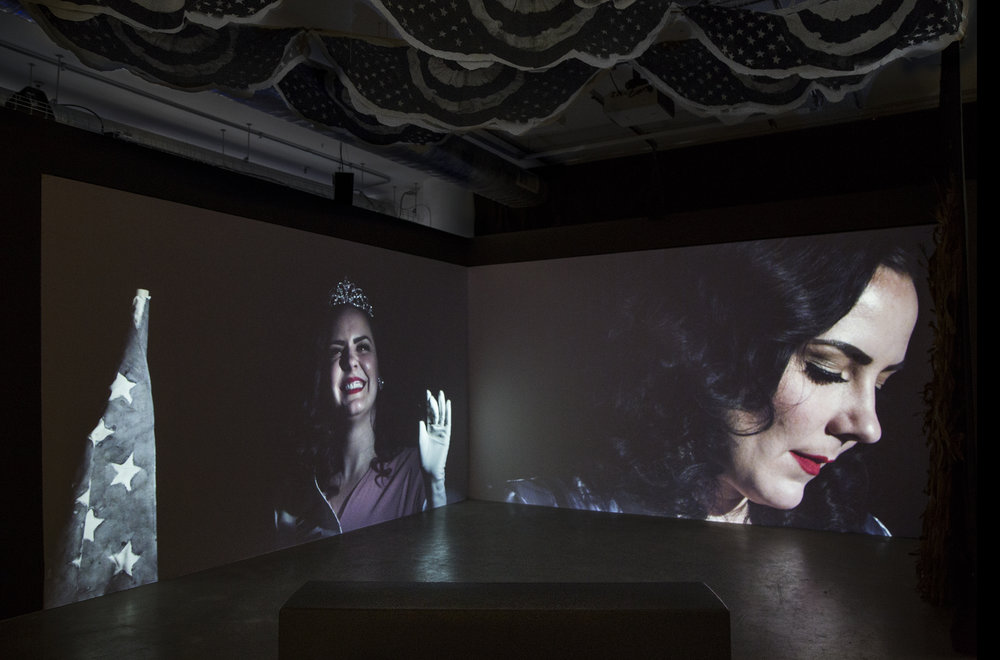 Whose Good Old Days? 2017
Sullivan Galleries, Chicago

3 hour durational performance. Performers cycled between gestures of parade and protest, and destroyed replicas of Davis' The Good Old Days Banner. Fabric protest banners courtesy of Aram Han Sifuentes' Protest Banner Lending Library.



Special thanks to Eseosa Ekiawowo Edebiri, Naomi Powers, Mina Büker, Maria Luísa Conlon, Erin Delaney, Claire Smith, Verónica Casado Hernández,
& Polly Bland
















Baptism 2015-2016
Video installation
+
Photographs

*Special thanks to Lucy, Ruby, Z, & Nuria

"Baptism," 2016. 2-channel video installation, 30:00.


Slain in the Spirit 2017

Vintage silk, photograph mounted on aged cedar panel.
Approx 8ftx 6.5ft
=

God will/will god lead us 2016
SITE Galleries, Chicago

Influential Evangelical leaders were mailed hand-woven Jacquard portraits and a letter from the artist. Ongoing project includes letter correspondence between the artist and Pat Robertson, Franklin Graham, James Dobson, Ken Ham & Mike Bickle.

Twin portraits were woven each so that the artist and Evangelical leader were connected through the same weft.